1898 - 2023: 125 YEARS OF ENTREPRENEURSHIP
The beginning and rapid growth
1898 Adolf Messer founds Frankfurter Acetylen-Gas-Gesellschaft Messer & Cie. in Hoechst as a manufacturer of acetylene generators and lighting appliances
1903 Ernst Wiss develops the first hydrogen-oxygen cutting torch at Griesheim-Elektron. This is followed by equipment and machinery for oxy-fuel welding and cutting
1908 The first oxygen plant opens at Chemische Fabrik Griesheim-Elektron

The entry into the industrial gases business with Hoechst
1965 Hans Messer founds Messer Griesheim GmbH. Merger of Adolf Messer GmbH with parts of Knapsack Griesheim AG belonging to Hoechst
1966 Expansion into Western Europe and North America
1990 Expansion into Eastern and Central Europe
1995 Entry into China and rapid expansion

The way forward, back into family ownership
2001 Goldman Sachs Funds and Allianz Capital Partners buy up Hoechst (Aventis) shares
2004 Acquisition of all shares of the financial investors by the Messer family; financing through sale Germany/UK/USA. Continuation as Messer Group GmbH.
2005 Ownership of the welding and cutting division passes back to the Messer family
2006 Sales exceed one billion euros for the first time: Messer and Messer Eutectic Castolin. Expansion of activities in Europe and Asia
2008 Messer Industriegase GmbH is founded in Germany
2011 Move to new joint company headquarters in Bad Soden
2018 120th anniversary of Messer
2019 Messer Group and CVC Capital Partners jointly acquire significant parts of Linde's US business, the Linde operations in Canada, Brazil and Colombia, and the Praxair operations in Chile.
2021 Change in legal form of Messer Group GmbH into Messer SE & Co. KGaA (partnership limited by shares)
2023 Bernd Eulitz takes over the role of CEO; Stefan Messer becomes Chairman of the Supervisory Board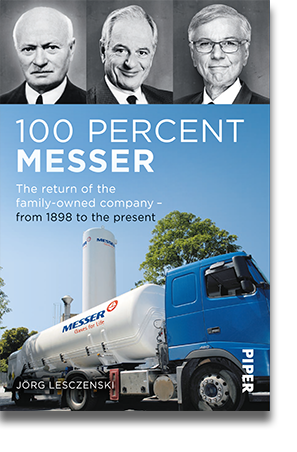 For 125 years the name "Messer" is associated with expertise in the field of industrial gases as well as welding and cutting technology. At the same time, the brand name also stands for the close links of the company and the family, and their changing histories.
100 % Messer - The return of the family-owned company by Dr. Jörg Lesczenski